About HALO
Healthy Aims for Little Ones and for their Families
At HALO for Families, LLC, we understand that children are one of the most vulnerable groups in our society. Therefore, we know to foster the overall physical health and socio-emotional well-being of our nation's children, we must engage the entire family in healthy actions.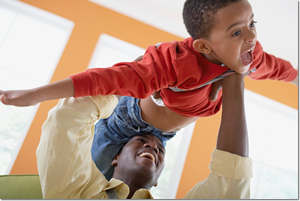 Our motto is healthy actions; healthy aims. Our mission is to meet the unique physical health, mental health, and social needs of children and families. We are a public health organization that collaborates with other agencies to develop and implement programs and initiatives that improve the lives of families and children.  We aim to do this by identifying, developing, and promoting high quality, relevant resources that are child-focused, family-centered, research-based, and culturally and developmentally appropriate. Our vision is to stand out as a public health leadership entity improving the physical, mental, and social well-being of children and families.
We recognize the value of public health as we believe in the concept of helping those who are less fortunate achieve healthier lifestyles. We are interested in addressing all unique needs of children and families. However, we have extensive background in the following areas:
public health program development, implementation, and evaluation outcomes
pediatric asthma education and management
strategic planning process and execution
parent/child stress concerns due to military deployments
Testimonials:
Dr. Chanda Nicole Holsey captures exactly how children feel with a parent in the Military facing a deployment. This book focuses on how the family comes together in understanding dad's departure. I personally work with Military families and children who have benefited from reading this book. This is a must read for parents and children who serve our country. Most definitely a five star book. I highly recommend you read it and share with other Military members and Spouses. "Precious Pete, Will You Remember Me, When I Am Out To Sea?" is absolutely fantastic!
By Lisa Lee on June 13, 2015
I was happy to have local author Dr. Chanda Nicole Holsey at my bookstore to promote her three amazing children's books in honor of our military. I enjoyed visiting with all of her family and friends who came out to support her. It was a pleasure watching the event unfold into a resounding success. I wish Chanda luck in all her future endeavors as an author and I hope to see her again soon. 🙂
Heather Leigh, Sweetwood Books
Thank you so much for coming today! I hope you enjoyed yourself. Please keep in touch. I am hoping you will come every year to the International Fair. The kids absolutely loved you and your books!
Military & Family Life Counselor, Local Orange Park, FL Elementary School